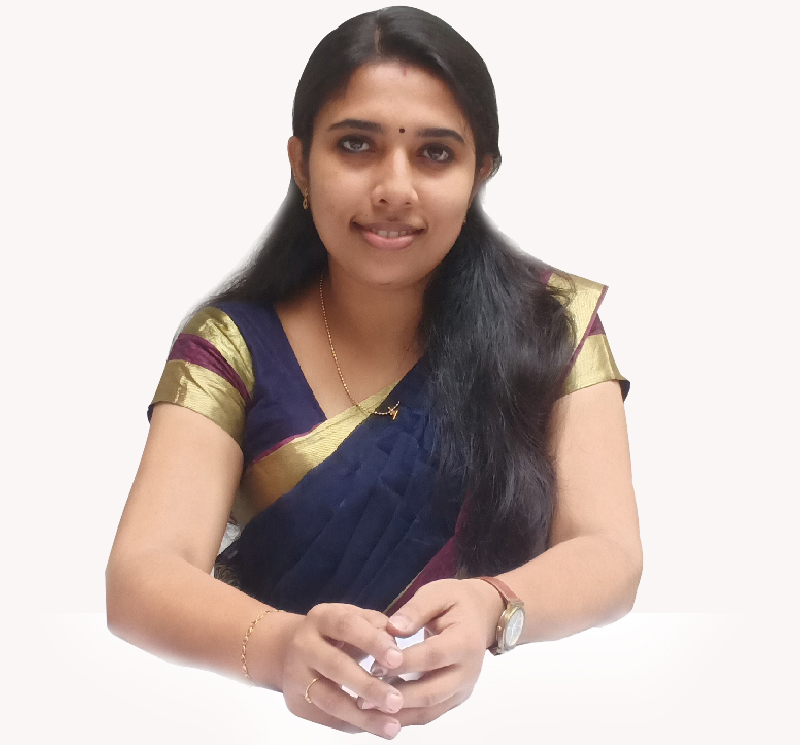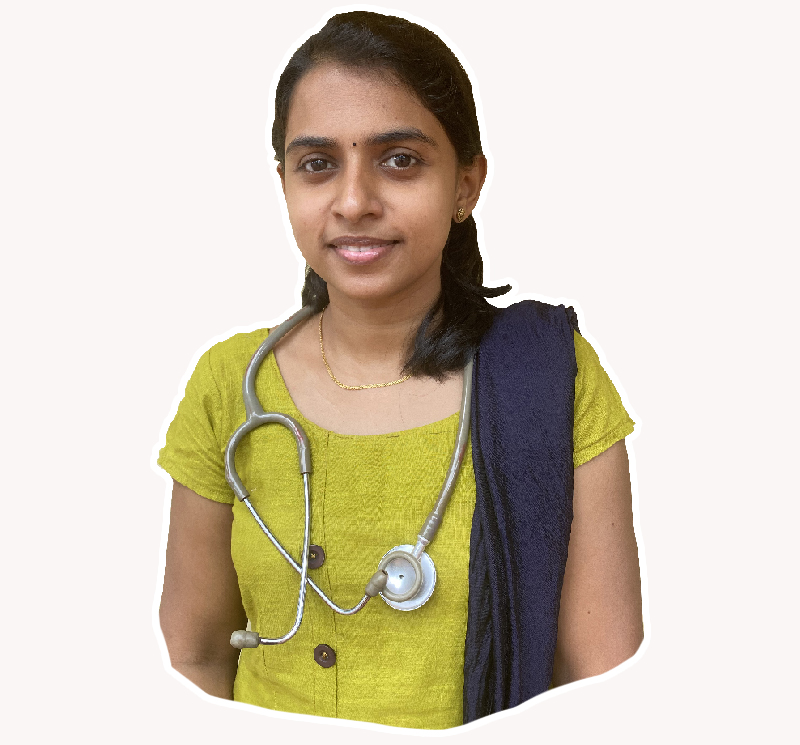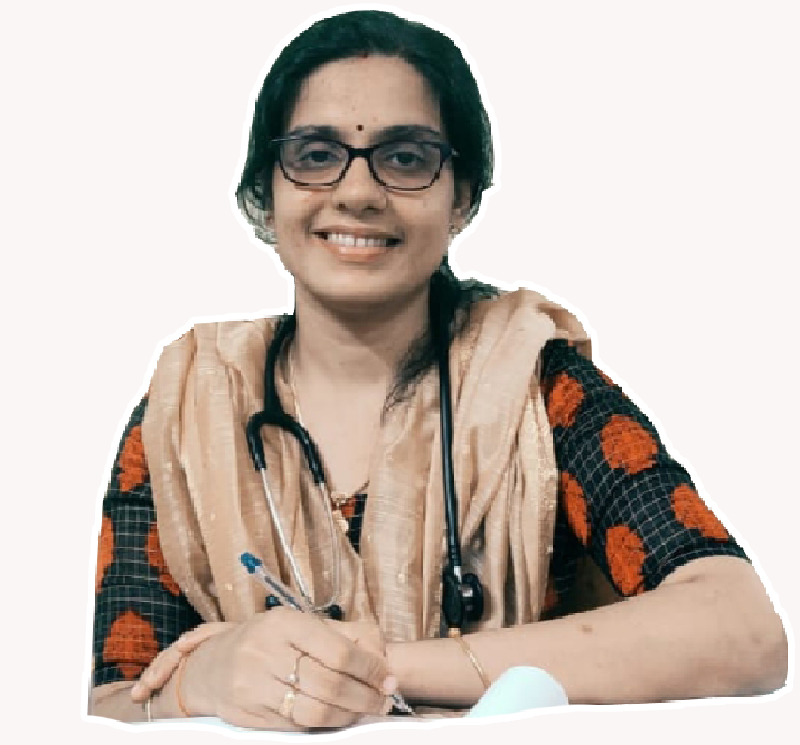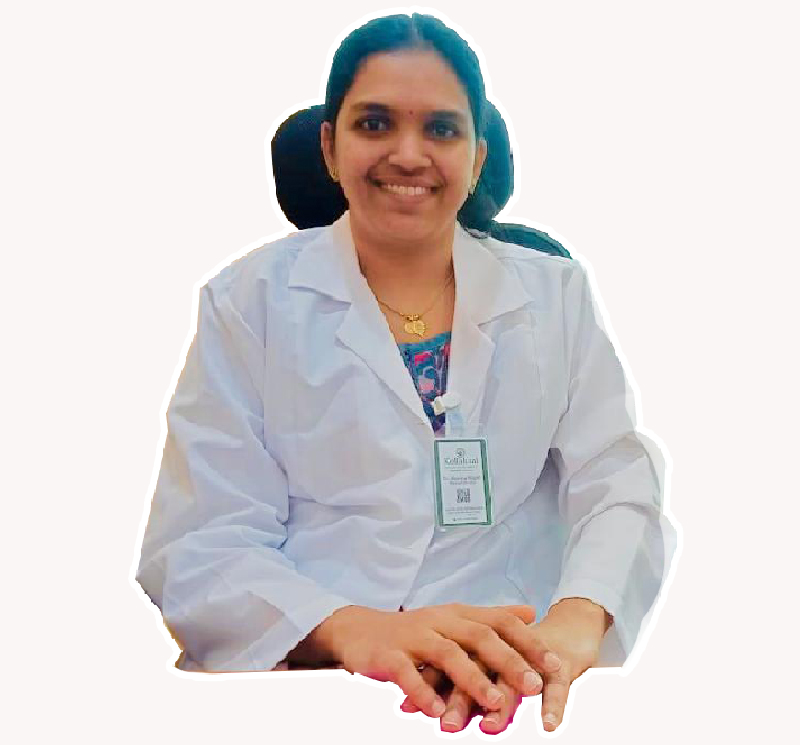 She has 6 years of experience in Ayurvedic practice.
She worked at various hospitals in Kerala and Mumbai including Government service as medical officer namely Government Ayurveda Dispensary Adhur, Jeevadhara ayurvedic panchakarma treatment centre (own clinic) Mumbai,Kottakkal aryavaidhya pharmacy Mumbai,Dhathri Ayurveda Mumbai,and Greens Ayurveda centre calicut.
She is from Kasaragod (dist.) Kerala.
She completed her BAMS graduation from Alvas Ayurveda medical college, Moodbidri, RGUHS, Bangalore.
She have certification in Nadi Vaidheekam (Drug less therapy).
Mon – Sun
11:00 AM – 12:00 PM
7:00 PM – 08:00 PM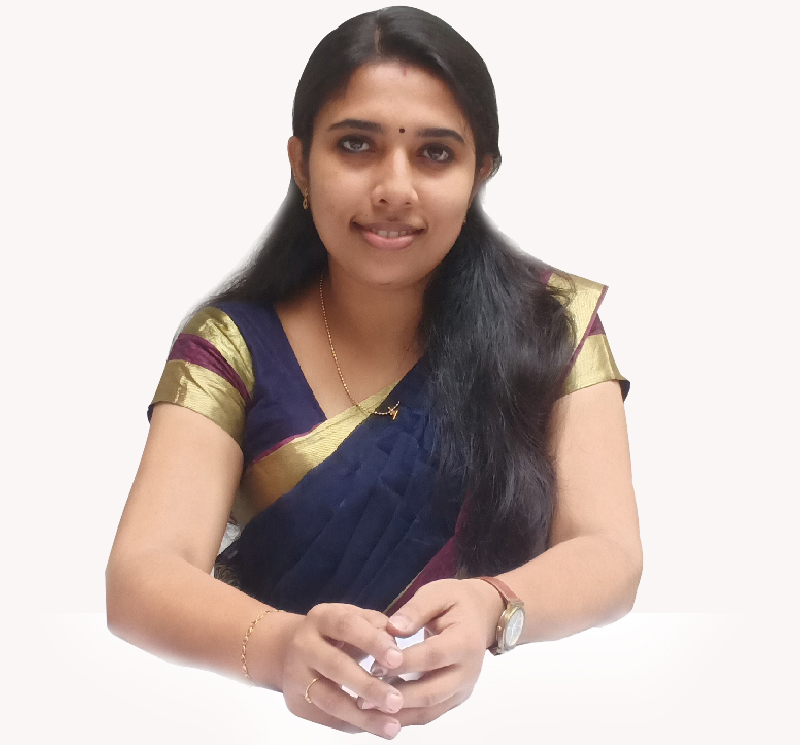 She is a dedicated health care professional from Ayurveda field. She is born and bought up in Trivandrum (dist.), Kerala. She is an Ayurvedic physician, specialized in Panchakarma (purification), currently doing private practice.
Academic History:
MD in Panchakarma, Amrita school of Ayurveda, Amrita University, Kerala.
BAMS, Alva's Ayurveda Medical College, Mangalore, Karnataka.
Publications
1) An Ayurvedic approach in the management of Trigeminal Neuralgia-a case report, Conference paper in Journal of Ayurveda and integrative medicine.
2) Role of Shodhana as Kshetra shudhi in Secondary infertility-a case report, (ISBN-978-993-5346-956-3)
Mon – Sun
10: 00 AM – 12:00 PM
06:00 PM – 07:00 PM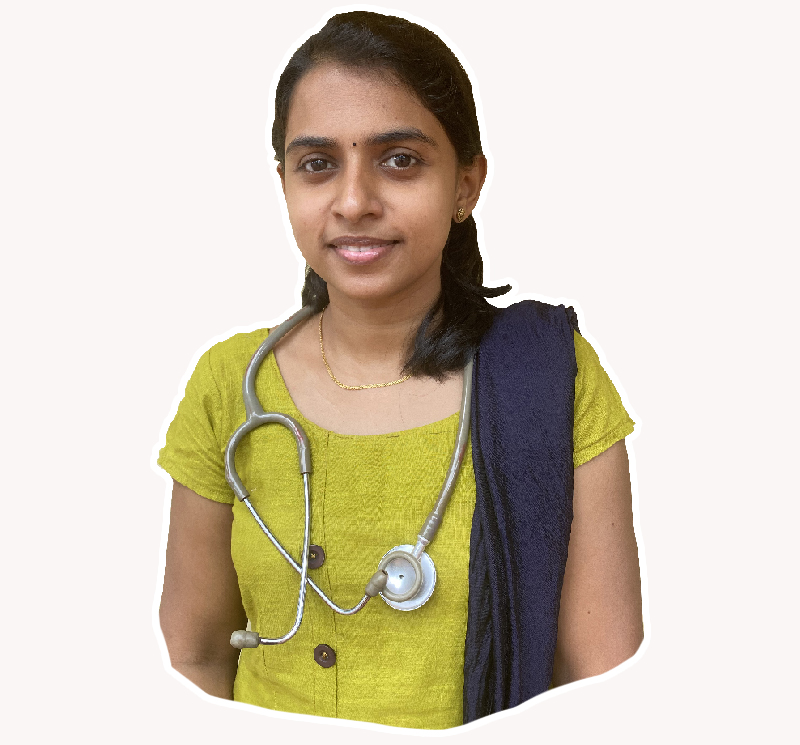 Her work experience span is 4 years in various hospitals in Kerala, namely as a Medical Officer.
Dhanwanthari Ayurveda Nursing Home, Cheruvathur, Kottakal Aryavaidhyasala Clinic, Periya, EK Nayanar Memorial Hospital, Kundamkuzhy Branch.
She is from Kasaragod (dist.) Kerala.
She completed BAMS from Alva's Ayurveda Medical Collage, Moodbidri, Mangalore. RGUHS, Bangalore.
She has also completed Yoga Instructor Course from Swami Vivekananda Yoga Anusadhana, Banglore
Mon – Sun
11:00 AM – 01:00 PM
05:00 PM – 06:00 PM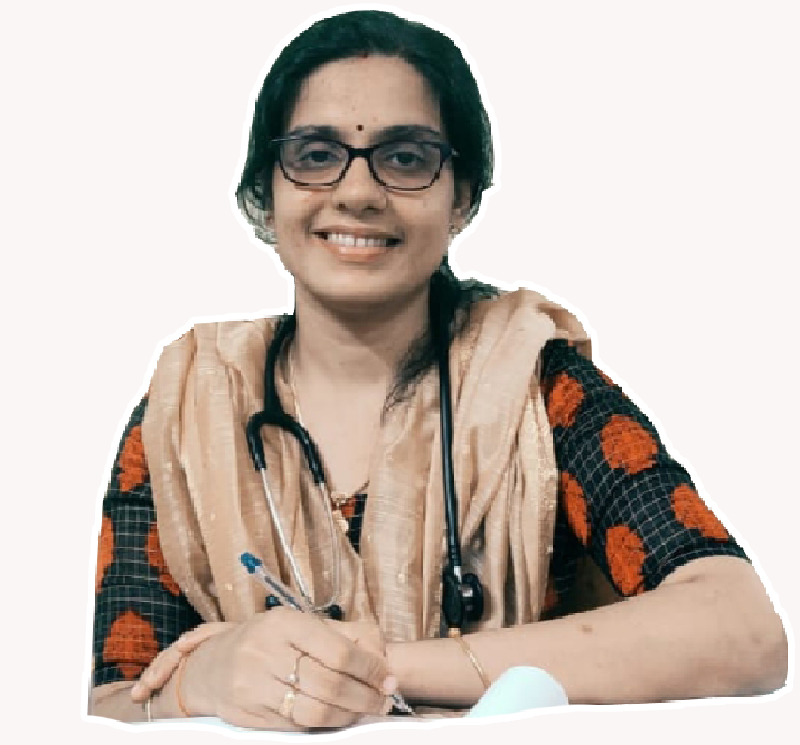 She is a DHA licensed Ayurveda practitioner.
She hails from Kannur, Kerala. She currently practicing in Kottakkal Green life Ayurvedic centre, Dubai.
She completed her graduation from Alva's Ayurvedic Medical College, Mangalore, RGUHS, Bangalore.
 2 years and 10 months' work experience as Ayurveda doctor in PKM Ayurvedic hospital, Taliparamba, Kannur, Kerala.
Mon – Sun
03:30 PM – 04:30 PM
(UAE  – 02:00 PM – 03:00 PM)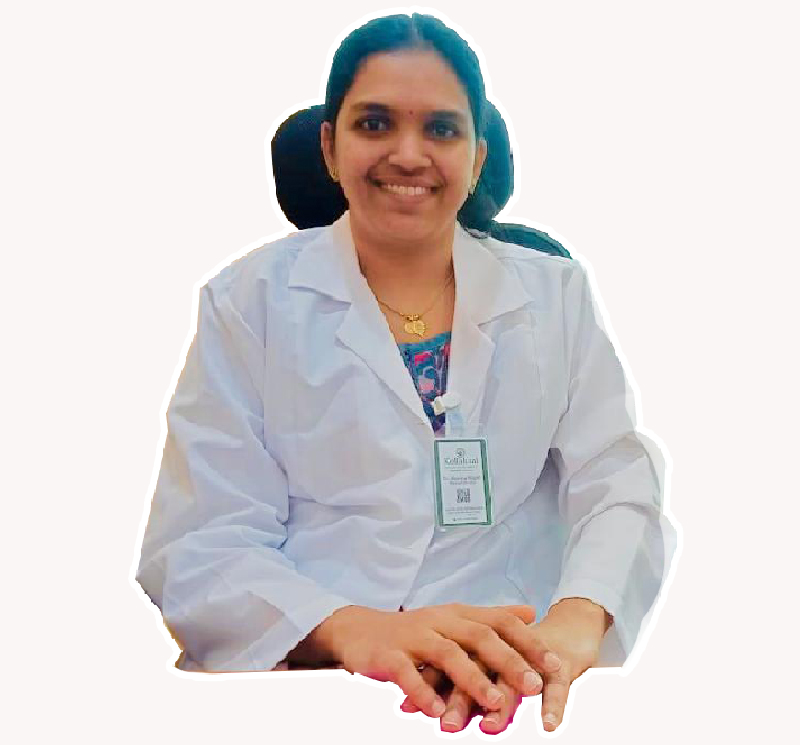 Dr. Seleena V
Toxicologist, Dermatologist, Cosmetology and trichology expert, also treat in conditions like Low back pain, Menstrual irregularities, PCOD, Leucorrhoea, Anaemia, Gastritis, Asthma, Migraine, General weakness, Urinary calculus, UTI, Hemorrhoids, Sleeplessness. Health advices and guidelines in Pregnancy, after delivery, Skin and Hair care.
Dr. Ajisha D.H
Expertise in Purification Therapy ( Panchakarma), Sciatica, Low back ache, Neck and shoulder pain, Arthritis, Calcaneal spur, Crack foot, Dry and productive cough, Sleeplessness, Gastric problems, Urinary infections, Carpel tunnel syndrome, Post-natal care, Acne and dandruff Weight reduction management
Dr. Liji Janardhanan
Expert in Skin and hair care especially acne, suntan, eczema, ring worm and other fungal infections, Allergic rhinitis, bronchial asthma, sinusitis, fatty liver, hyperacidity, IBS, hemorrhoids, food poisoning, insomnia, obesity, diabetes mellitus, Arthritis, Low back ache, kidney stone, UTI, dysmenorrhea, menorrhagia, menopausal symptoms
Dr. Aparna Nighil
She is expertise in arthritic conditions like Osteoarthritis , Rheumatoid arthritis, Gouty arthritis, Disc problems like spondylosis, spondylolisthesis, Inter vertebral disc prolapse, Gynaecological disorders like PCOS, Endometriosis, Fibroid, etc. Skin conditions like psoriasis, eczema and atopic dermatitis, Sleeping disorders, fibromyalgia, obesity.
Dr. Divya Damodaran
Yoga adviser, Diabetic care and diet management, Anaemia, Cough, General debility, Crack foot, Low back ache, Cervical spondylosis, Tennis elbow, Gastric problems, Headaches (migraine, sinusitis etc.), Gynecological problems (menstrual irregularities, PCOD , leucorrhoea etc.) Hemorrhoids, Sore throat, Mouth ulcer, Hair and Skin care.
We're Here Whenever You Need Us
Open Hours
Mon – Sun : 10 AM – 01 PM
03 PM – 08 PM
Address
Aayurmantra, Aluva, Kerala, India